Corporate INTL Global Awards 2012
Intellectual Property Litigation Firm of the Year 2012 in Mexico
The 2012 Lawyer Monthly Legal Awards recognize the achievements of lawyers, law firms and associated legal professionals whose knowledge and expertise continue to influence the wider profession. The Lawyer Monthly
From April through to June of this year, Corporate INTL received more than 11,500 unique nomination forms from law firms, in-house counsel teams, business directors and private individuals. This diverse mixture of submissions from both domestic and international clients and peers ensured that we at Corporate INTL had a wide range of nominated lawyers and attorneys from a variety of jurisdictions that specialize in a multitude of fields.
A large-scale and in-depth research process then took place using the nomination forms, combined with other details that our internal research department has on file.
In July, the shortlisted nominees were informed and additional information was requested of the special select few in order to fully recognize the skills of these firms and the high quality services that they provide to clients. This up to date information was combined with the comments and ratings from clients and peers, as well as the previously conducted in-house research from Corporate INTL's judicial panel, to build a clear picture of each of the shortlisted nominees.
The final data was passed on by the panel on July 25th and, over the course of two weeks, the final winners were selected.
Our awards merit the leading firms in their chosen specialism, and recognize true professional experience and expertise throughout the world. Corporate INTL magazine is read by business leaders, investors and advisers globally; therefore, the awards that the magazine dispenses are significant accolades for those firms that are awarded and deemed to be winners in their chosen categories. Once the winners have been announced and each firm has received notice of their award win, this special publication is launched to announce the winners to a wider audience.
Each of the regions featured – Europe, The Americas, Asia & Oceania, Africa and the Middle East – were designated a separate team of researchers, whose task it was to take a detailed look at the nominees and carefully select the honour accredited to the chosen winners.
This year, the award-winning firms are listed by geographic region, broken down into country order and listed with specific award titles. There is also a helpful index at the back of this special Global Awards 2012 supplement, which organizes firms in an easy to-locate list, arranged alphabetically by firm name.
Congratulations from Corporate INTL magazine to all of the 2012 award winners. http://www.corp-intl.com/emags/J2jUCoRhL6djfvZAElA7WA3d3d/index.html#/10/.
To view the awards publication please visit: http://www.corp-intl.com/emags/J2jUCoRhL6djfvZAElA7WA3d3d/index.html#/106/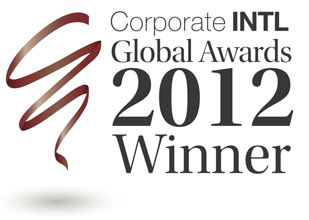 ---